Social Welfare Corporation YOU-I-MURA  Special Nursing Home[YOU-I-NO-IE]    日本語ページ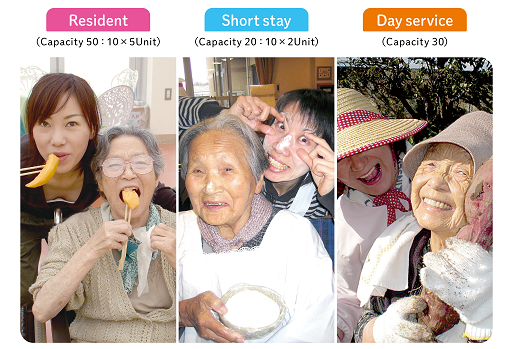 To keep myself up to the end
With the management philosophy of "Let's be yourself, to the end," we will support you to live your life by valuing your lifestyle, whether you need care or live in a facility. That is the promotion of individualized care for YOU-I. For that purpose, while valuing the following six things, each staff member imagines "How I want to live if I am", and become a nursing home that can be thought of as "I want to live" and "I want to enter my family" It operates.
6 things that "YOU-I-NO-IE" value.
Unit care and Individual care




All rooms are private rooms with 7 units. Each unit has a living room, kitchen, toilet and bathroom. You can live only in the unit. The staff is fixed in each unit, so we try to build a "familiar relationship" with the tenants and use a care plan and 24-hour seats to support individual life.

Professional care


The words of YOU-I staff are smile, communication and professional. We will promote "YOU-I personal care" so that users can live with a smile.
At the same time, we are working to ensure that employees can work with a smile, with the aim of creating a "no lift (care that does not lift)" and "no overtime" workplaces that are easy to work in.

So that you can eat deliciously




YOU-I's lunchroom is directly managed, not outsourced. A registered dietitian goes around the unit to listen to requests and create a menu. Each unit is served with freshly cooked rice and miso soup. There are also unit event meals, buffets, food delivery and dining out. When the appetite is gone, half-meal is taken.

Smile and fun in life


It is important to live happily and laugh. There are rules, but alcohol and tobacco are free. Enjoying life such as izakaya, 7-Eleven shopping, unit drive, going out, and coffee shop, daily learning time, various club activities (calligraphy course, sculpture in bread, fresh flowers, ceramic art class, singing party, poetry class, etc.) .

Terminal care(End-of-life care)


The last time will come to anyone. Our staff carefully discusses with family members and doctors, shares their thoughts, and helps them spend the last time together. We alleviate physical and mental distress and distress as much as possible, so that we can reach the end in our room surrounded by our favorite family and long-time staff.
We value not only relaxation for the individual, but also psychological support for the family.

A booklet was published in 2016.

As a facility open to the community


We actively participate in local events. We have established cooperative relationships and exchanges with neighborhood associations, districts, elementary schools, and public halls, and are trying to prevent the facility from being closed. There are elderly support centers and home care support offices in the facility, which serve as a local welfare base. The YOU-I Village Festival, held every autumn, is one of the major events in the region.
Daily schedule at YOU-I-NO-IE
9:00 Pick up at home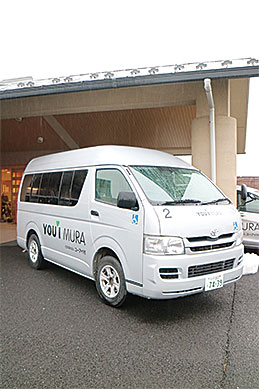 9:20 Tea time.  Health check by nurse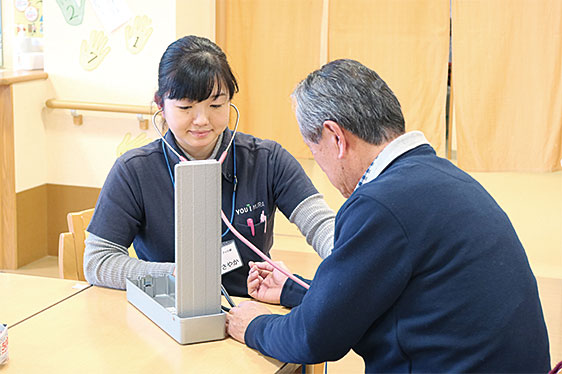 10:00  Bathing or individual activities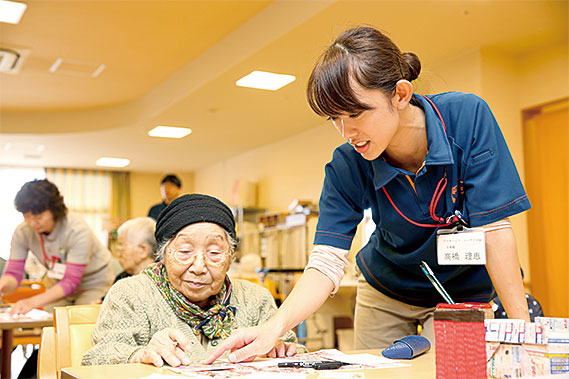 12:00 Rehabilitation gymnastics before lunch, lunch, break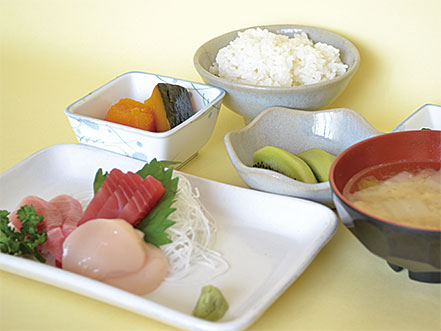 13:30 Creative activities that change every day of the week・Recreation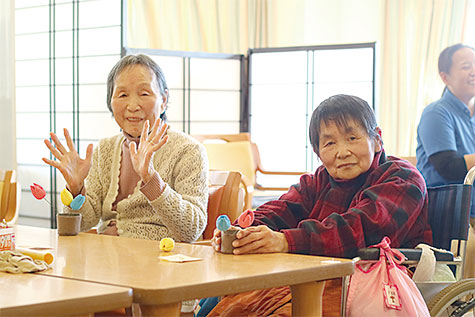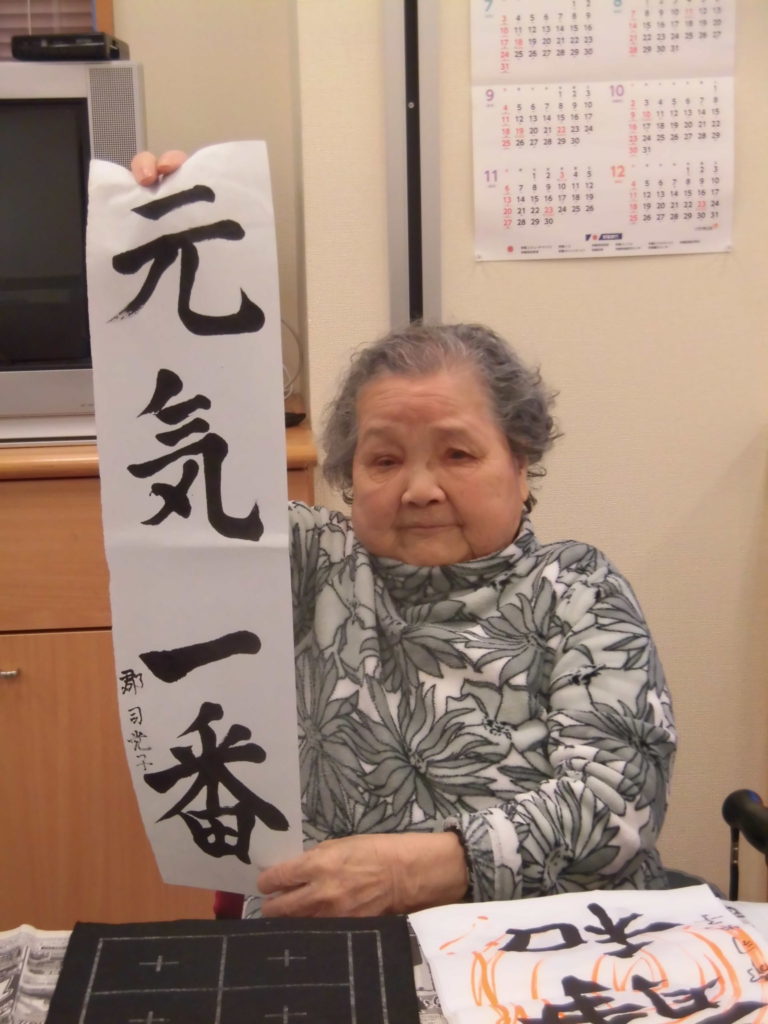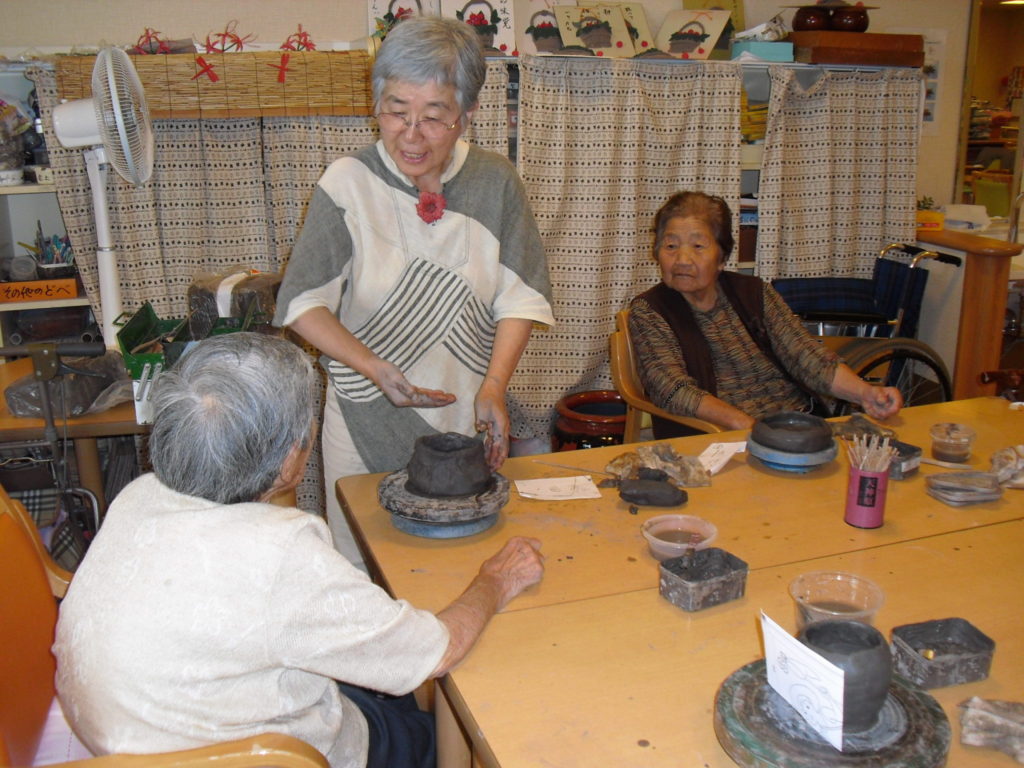 16:30 Transfer to your home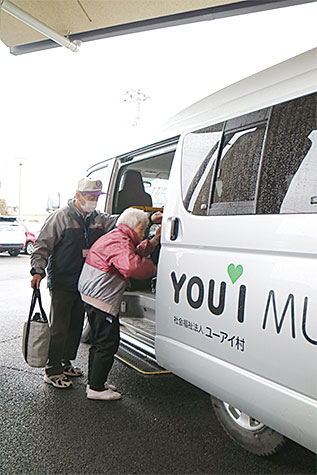 Annual events
Cherry-blossom viewing, grape collecting, eating out, Visit a shrine for a new year, 
Christmas party and athletic meet. 
Event meals such as handmade soba and freshly fried tempura, and plenty of events.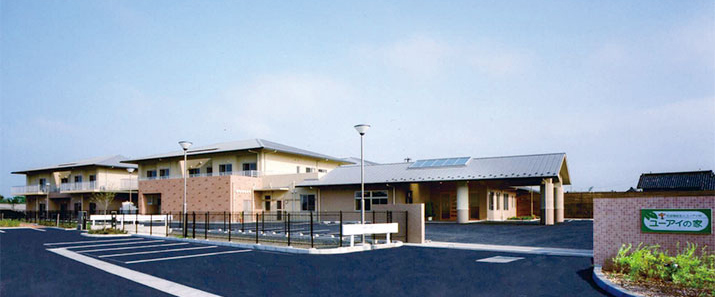 This is a special nursing home for all nursing homes and units that was established in 2005.
A 24-hour seat is used to focus on individual care.
It has a home care support office (YOU-I Care Plan Center) and an elderly support center for the east of Mito City.
Site area 8,204㎡ / Total floor area 3,488㎡
We accept requests for inquiries / consultation / tours at any time.
Social Welfare Corporation YOU-I-MURA  Special Nursing Home[YOU-I-NO-IE]
1839-1 Yoshinumacho,Mito-shi, Ibaraki-ken 310-0827, Japan
TEL:+81-29-222-1822
FAX:+81-29-222-1833
Email:  info@you-i-mura.com